The following information sets out the uniform requirements for the academy, and is also outlined in the parent/ carer handbook, which can be viewed below.
The academy appreciates the challenges some families face financially. Non branded items such as grey trousers, black socks, white shirts and black shoes can be purchased from any high street shop or supermarket. Where Ormiston Denes Academy uniform consists of specific branded items, these are available from local retailer Screens who hold all items of our uniform in stock.
Main school uniform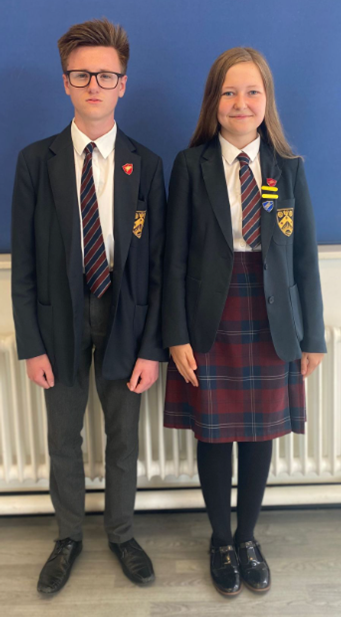 Ormiston Denes Academy uniform
Blue blazer with gold Ormiston Denes Academy badge¹
White buttoned up shirt (generic)
Blue and burgundy striped tie¹ (this must reach between the top button of the blazer and the waist)
Grey trousers² or blue and burgundy tartan skirt¹
Grey V-neck wool jumper (optional and generic – no sports styles are accepted)
Plain dark grey or black socks or plain grey, black or natural coloured tights (generic)
Plain black polishable shoes (generic)
¹ Items must be purchased from our approved supplier, Screens
² Trousers must be standard uniform tailored trousers (as shown in the photograph). We will not accept skinny fit or cropped, denim or jersey material trousers.
Please note the following footwear is not acceptable: sandals, boots, trainers/trainer type shoes or shoes with logos/stripes, or plimsolls. Fashion belts, wide, coloured and/or ornate designer are not allowed, however a slim, plain black belt with a small, simple buckle can be worn. Buckles should be of a discreet size (no more than 5cm diameter).
Please note that students will be expected to borrow items of uniform from the academy should they not be in full uniform.
For serious or persistent concerns or where other strategies have been unsuccessful, students may be taught separately from their peers or sent home for the infringement to be rectified. Ormiston Denes Academy reserves the right to determine what constitutes acceptable in regards to student presentation/appearance. Students who do not follow this guidance may be sent home for the matter to be rectified or taught separately from their peers.
PE kit
All PE kit must be purchased from our approved supplier, Screens.
Compulsory items
Blue crew neck t-shirt
Blue shorts (unless blue skort or blue tracksuit bottoms (purchased from screens)
Plain blue football socks
Trainers or football boots where appropriate
Optional items
Blue ODA branded quarter zip jacket
Black base layer worn under PE kit in colder weather (generic)
Blue skort (generic)
Blue tracksuit bottoms (generic)
Blue and white football socks (generic)
Shin pads (generic)
Jewellery and make-up
No jewellery will be allowed to be worn by any student at any time. Any jewellery worn will be confiscated and will be retained by the academy until a nominated adult can collect it. Students who do not meet these expectations will be sanctioned in accordance with the behaviour policy.
Facial and body piercings and extremes of hairstyles including cut and colour are not permitted in the academy.
Make-up should be discreet and in keeping with a student's appearance. Extreme or excessive make-up is not permitted and any student deemed to be wearing too much make-up will be asked to remove it. Students are not permitted to wear nail varnish or nail extensions. Please also note that clear retainers are not allowed.
Please note: Ormiston Denes Academy makes the final decision as to what is or is not acceptable in all aspects of a student's appearance. We are happy to provide guidance where necessary, prior to purchase, should you be unsure.
Equipment
Students will need to bring the following 5 a day equipment to school in a school bag, this will be checked by form tutors on a daily basis:
Pen—blue or black
Pencil
Ruler
Academy issued planner
Knowledge Organiser
Students would also benefit from having;
Erasers
Pencil sharpener
Protractor
Pair of compasses
Scientific calculator (Casio FX-83GT or FX-85GT recommended)
Reading book